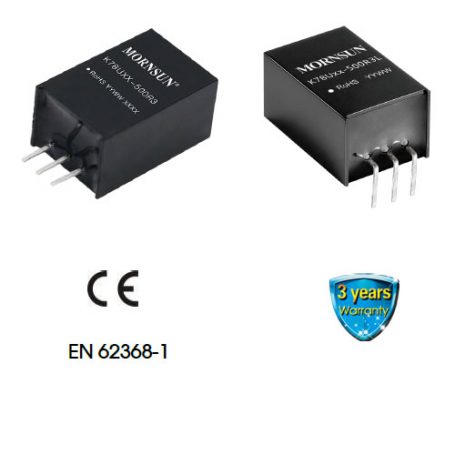 K78Uxx-500R3 Series
Input: 9.0-90Vdc
Outputs: 3 to 24Vdc
Power: 1.65-12 Watt
Tamb: -40 to +85°C
Dims: SIP3
Non isolated
Request a sample
have a question? Contact us now
APPLICATION
The K78Uxx-500R3 series high-efficiency switching regulators are ideally suited to replace LM78xx linear regulators and are pin compatible.
It has ultra wide input voltage range up to 90V dc, the efficiency up to 93% means that very little energy is wasted as heat so there is no need for any heatsinks with their additional space and mounting costs.
In addition to standard AC-DC and DC-DC power supplies, Mornsun also welcomes inquiries for custom applications. Many of the Mornsun DC-DC converters are 100% compatible with devices from some of the world's larger manufacturers but at considerably more attractive prices.
feature list
Efficiency up to 93%
Temperature range: -40°C to +85°C
No heat sink required
Pin-out compatible with LM78xx linears
Short circuit protection, Thermal shutdown
Low ripple and noise
SIP package
Industry standard pinout
MTBF>2,000,000 hours
RoHS Compliance
MODEL NUMBER
INPUT RANGE
OUTPUT
POWER
K7803U-500R3
K7803U-500R3L
9.0 - 90Vdc
3V3
1.5W
K7805U-500R3
K7805U-500R3L
9.0 - 90Vdc
5V
3W
K78X6U-500R3
K78X6U-500R3L
9.0 - 90Vdc
6.5V
3.25W
K7809U-500R3
K7809U-500R3L
14 - 90Vdc
9V
4.5W
K7812U-500R3
K7812U-500R3L
18 - 90Vdc
12V
6W
K7815U-500R3
K7815U-500R3L
20 - 90Vdc
15V
7.5W
K7824U-500R3
K7824U-500R3L
36 - 90Vdc
24V
7.2W
Suffix "L" denotes 90 degree pins
Downloads
Click on the link below for an instant download.

We would love to know more about the problem you are trying to solve
Our experts are on hand to help you find the best solution!
why choose relec?
Faster

Our aim is to get back to you with an initial response within the hour.

Attention to detail

We pride ourselves on getting you the right product, at the right price and on time.

New ideas

We are constantly looking for latest technology and products for your applications.

Beyond standard

It's not just about the product.  Our service goes way beyond the norm.

Easy

We want to make your life as simple as it can be. Call us to find out what we can offer.
sign up for our newsletter
Enter your email address below