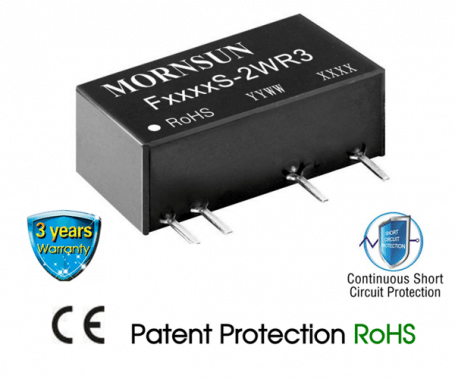 F_S-2WR3 Series
Inputs: 12V to 24Vdc
Outputs: 5V to 24Vdc
Power: 2 Watt
Tamb: -40°C to +105°C
Dims: 19.65 x 7.05 x 10.16mm
1500V Isolation, 3kV (1 sec)
Meets IEC62368, UL62368, EN62368 standards
Request a sample
have a question? Contact us now
APPLICATION
The B_S-2WR3 Series are specially designed for applications where a low power supply voltage has to be derived from a fixed bus voltage
The B_S-2WR3 Series are suitable for use where
a) Where the voltage of the input power supply is fixed (voltage variation < ±10%);
b) Where isolation is required between input and output (isolation voltage <1500VDC);
c) Where the regulation of the output voltage is not critical
Typical applications include digital circuits, low frequency analog circuits, and IGBT drive circuits
feature list
High efficiency up to 85%
1500Vdc isolation
Continuous short circuit protection
No-load input current as low as 5mA
4 pin through hole package
Internal SMD construction
Temperature range: -40°C to +105°C
No heat sink required
No external components required
Industry standard pinout
UL62368, EN62368 approval
RoHS Compliance
Meets IEC62368, UL62368, EN62368 standards
| MODEL NUMBER | INPUT RANGE | OUTPUT | POWER |
| --- | --- | --- | --- |
| F1205S-2WR3 | 10.8 - 13.2Vdc | 5Vdc | 2W |
| F1212S-2WR3 | 10.8 - 13.2Vdc | 12Vdc | 2W |
| F1215S-2WR3 | 10.8 - 13.2Vdc | 15Vdc | 2W |
| F1224S-2WR3 | 10.8 - 13.2Vdc | 24Vdc | 2W |
| F2405S-2WR3 | 21.6 - 26.4Vdc | 5Vdc | 2W |
| F2412S-2WR3 | 21.6 - 26.4Vdc | 12Vdc | 2W |
| F2415S-2WR3 | 21.6 - 26.4Vdc | 15Vdc | 2W |
| F2424S-2WR3 | 21.6 - 26.4Vdc | 24Vdc | 2W |
Downloads
Click on the link below for an instant download.

We would love to know more about the problem you are trying to solve
Our experts are on hand to help you find the best solution!
why choose relec?
Faster

Our aim is to get back to you with an initial response within the hour.

Attention to detail

We pride ourselves on getting you the right product, at the right price and on time.

New ideas

We are constantly looking for latest technology and products for your applications.

Beyond standard

It's not just about the product.  Our service goes way beyond the norm.

Easy

We want to make your life as simple as it can be. Call us to find out what we can offer.
sign up for our newsletter
Enter your email address below