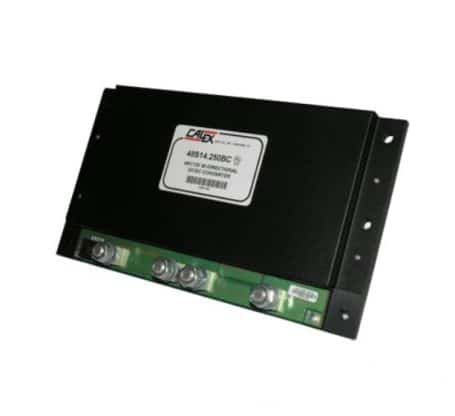 BC Series
Input: 6-18V DC & 24-58V DC
Outputs: 14V
Power: 3500 Watt
Temp: -40°C to +100°C
Size: 240 x 136.5 x 18.5mm
have a question? call us now
APPLICATION
The BC Series is a 3,000 Watt 48S12.3K0BCI Bi-directional nonisolated DC/DC converter that provides a complete solution for in-vehicle power distribution with 12V/48V battery configurations for a variety of applications including micro and mild hybrid automotive systems. The bi-directional DC/DC converter charges a low side (12V) battery during normal operation (buck mode) and charges or assists the high voltage (48V) battery in emergency situations (boost mode). The bi-directional DC/DC converter operates more as an ideal current source with variable direction, thus allowing energy transfer between two voltage domains. Voltage feedback maintains the output voltage within the acceptable operating range and eventually allows a custom charging profile for the battery pack. It regulates the
average current flowing between the high voltage and low voltage ports in the direction selected via CAN interface. It is packaged in an unprecedented low profile 9.45" x 5.366" x 1.0" mechanically enclosed package weighing only 2.86 lbs. The package makes the unit ideal for harsh shock and vibration requirements as well as easy integration with a battery pack. Three M8 bushings are provided two for power connection and two for ground
connections.
feature list
Automotive 12V/48V Battery System
Low Side (LS): 12V Input Voltage Range: 6V to 18V
High Side (HS): 48V Input Voltage Range: 24V to 58V
Overcurrent, Overvoltage, & Over-temperature Protection.
All protections are latching.
Disconnect switch on LS (12V) and HS (48V)
Reverse polarity protection on LS (12V)
Constant Voltage and Constant Current Mode
Average Current Mode Control
Custom Charging Profile for the Battery Pack
LS and HS Current Monitoring
Internal temperature monitoring
High power density
Low profile 0.9"
Efficiency up to 97%
Dimensions 9.45" x 5.37" x 0.73"
Weight 2.86 lb (1.22 Kg)
Excellent thermal performance
Constant switching frequency
CAN 2.0b Interface including remote ON/OFF
Good shock and vibration damping
Highly Integrated Solution
RoHS Compliant
why choose relec?
Faster

Our aim is to get back to you with an initial response within the hour.

Attention to detail

We pride ourselves on getting you the right product, at the right price and on time.

New ideas

We are constantly looking for latest technology and products for your applications.

Beyond standard

It's not just about the product.  Our service goes way beyond the norm.

Easy

We want to make your life as simple as it can be. Call us to find out what we can offer.
sign up for our newsletter
Enter your email address below