600W Buck-Boost Converter Powering the rise of Robotics
8th October 2021
KUB4836EB Series Buck-Boost DC-DC Converters from Mornsun
Very high-density, non-isolated, buck-boost, dc-dc converters in the KUB4836EB series have the capability to power motors used in some of the most sophisticated industrial robotics.
Available from Relec Electronics, the extremely versatile KUB4836EB series dc-dc converters are designed to power the larger motors found in robots in the manufacturing, inspection & maintenance, and security sectors. Supplied in a compact, 1/8th brick package, the 600W buck-boost dc-dc converters have an adjustable output voltage (0 – 60Vdc) and adjustable current (from 0 -10A). Full control of output voltage and current makes the KUB4836EB series ideal for controlling motor speed and position in modern robotic systems. The very wide, regulated single output operates from an input range of 9V – 60Vdc. As a result, the single series of dc-dc converters can cover operate from a very wide input range covering 12V, 24V and 48V bus and battery voltages.
Wide Input range and adjustable outputs
The converters are ideally suited to inspection and maintenance robots which often have to work in hazardous and constrained environments. The combination of high power density and conduction cooling make them ideal components to work in sealed enclosures. A growth market for robotics is security and monitoring systems which perform surveillance and observation in selected areas, tracking activity and sending alerts when any irregularities occur. Increasingly telepresence robots are used to provide remote access to staff and visitors, or as part of a Covid-19 response to ensure a sanitised workplace 24/7. The wide input range and ability to supply outputs higher than the input (Boost mode) are key features of the KUB4836EB series.


High Density & Efficiency
The converters also find a number of applications in automated production lines, conveyer systems, and welding machines. Voltage or resistor programming options allow both the voltage or current to be adjusted to meet an application's specific requirements.
Safety features include input under-voltage, output short circuit, over-temperature protection, remote on/off, output voltage adjustment, output current adjustment. The converter's Imon pin measures and monitors the output current.
The versatile dc-dc buck-boost converters are supplied in an industry-standard one-eighth brick and pin-out, with dimensions of 60.8 x 25.0 x 12.7mm with options for standard PCB mounting or an external heatsink via a flange plate.
Mornsun's automated manufacturing with surface mount device reflow soldering ensures quality and reliability. The five-sided metal housing simplifies assembly while ensuring good thermal dissipation for efficient operation. There is also the option of an additional cold wall flange plate for space-limited projects.
The operating case temperature range is -40 to +105°C.
The very high-density operation, adjustable output voltage and current, together with a wide input range and thermal dissipation, make the KUB4836EB converters ideally suited to a wide range of demanding industrial and battery-powered systems. In addition to complex inspection or security robotics, the high-density, efficient dc-dc converters are ideal for use in a wide variety of motors, drones and telecom applications. They can also be used in dc-dc distributed power supplies and any other systems which require wide input voltages with robust, reliable operation.
KUB4836EB Series from Mornsun Power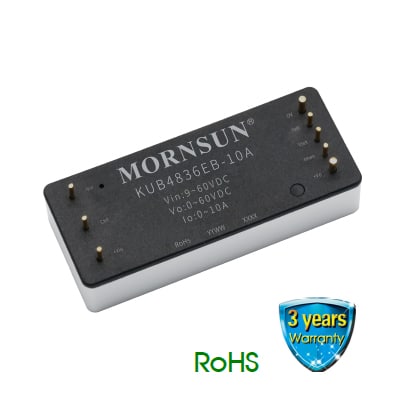 Input: 9 to 60V dc
Outputs: 0 – 60V dc (Adjustable)
Power: 600W Max
Tamb: -40 to +105°C
Dims: Eighth Brick Package
Non-Isolated, Regulated Output
3 Years Manufacturer Warranty
GET IN TOUCH TODAY – 01929 555700
Here at Relec Electronics, we have worked closely with our key suppliers for over 40 years. We specialise in many industries, including; automotive, industrial, transportation, instrumentation & defence. We have a team of dedicated engineers ready to support you throughout the design process. We also carry stock of all standard modules and accessories for next day delivery.
Let's make this easy and call us today.
Follow us on Facebook, LinkedIn & Twitter for updates on all of the latest Power Conversion products.
Sign up to our monthly newsletter below, and never miss out on our updates of industry news, we release news/blog pages weekly with news from the power and display industries.
Relec Electronics holds the highest standards towards finding you the ideal solution for your application. We truly believe "Standard is Just the Beginning". Get in touch with our technical team today.


sign up for our newsletter
Enter your email address below
why choose relec?
Faster

Our aim is to get back to you with an initial response within the hour.

Attention to detail

We pride ourselves on getting you the right product, at the right price and on time.

New ideas

We are constantly looking for latest technology and products for your applications.

Beyond standard

It's not just about the product.  Our service goes way beyond the norm.

Easy

We want to make your life as simple as it can be. Call us to find out what we can offer.