Powering the Internet of Things (IoT)
17th September 2019
Power Solutions for Internet of Things (IoT) Systems & Devices
IoT, or the Internet of Things, is becoming an increasingly important part of our everyday lives. With the advent of 5G data networks the ability to interconnect every day technology is getting easier, faster and more accessible. The IoT is going to shape our world from devices as diverse as heating to heart monitors, greenhouses to garage doors or cars to cameras. The wealth of "Smart devices" is all around us and will be driven by the Internet of things.
Powering Internet of Things (IoT) Applications
IoT products come in a variety of shapes and footprints, but they will need to be powered in one form or another, be it for sensors, actuators, displays or communications (RS232 / RS485 or CANBus). Equipment may be powered from AC (mains power) or DC (typ battery) sources.
Relec Electronics and Mornsun have partnered together to provide power solutions for the growing IoT market. The range of products include;
• AC DC solutions from 1W to 60W,
• DC DC converters from 200mW to 200W
• Isolation levels from 1000V to 6000V
• RS232/RS485/CANBus controllers
Some typical applications of the integration of all these products can be found below
Smart Thermostat
Smart thermostats are probably the most easily recognizable IoT devices in our houses today. They give us the ability to control our heating remotely, and closely monitor our everyday energy usage. A typical smart thermostat consists of microcontroller, display, sensors and control relays. Fig 1 shows a typical system. The 3W LS03-15B12R2S is an ideal low cost, high density AC/DC Converter which provides a DC bus which can then power an optocoupler drive and relay outputs via a high-density DC/DC converter (B1212S-2WR2 2W). The same AC/DC converter also powers the system microcontroller through a high-efficiency K78L05-500R3 DC/DC converter that includes output short-circuit protection and a no-load input current as low as 0.2mA.
Smart Greenhouse Controller
Agriculture are important users of IoT technology. Figure 2 shows an example of a typical smart greenhouse controller. The power a variety of actuators for the control of temperature, moisture, light intensity (shade) and pesticides depending on the inputs from sensors located around the greenhouse. These actuators and sensors typically run off as 24V DC supply, but the primary power source is a mains AC supply. The LI120-20B24R2 AC/DC Din Rail converter provides a 24V DC bus for use by the sensors and actuators. The WRF2405S-3WR2 is 3W DC/DC converter, providing 3kV DC isolation with self-recovering short circuit protection, and supplies 5V for the main control unit, display and wireless modules connecting the system to the Internet.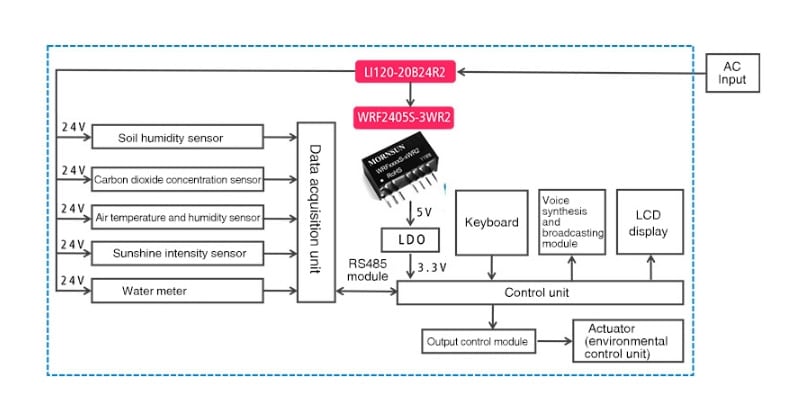 Relec & Mornsun are your IoT Power Solutions Experts
The demand for IoT devices is growing, and so is the demand for efficient, compact, and economical power solutions. Relec Electronics not only offer a large portfolio of products to meet your IoT power needs, but many of these products can be customized to your specific requirements. Contact us today and find out how we can help bring your smart designs to life.
GET IN TOUCH TODAY – 01929 555700
Here at Relec Electronics, we have worked closely with our key suppliers for over 40 years. We specialise in many industries, including; automotive, industrial, transportation, instrumentation & defence. We have a team of dedicated engineers ready to support you throughout the design process. We also carry stock of all standard modules and accessories for next day delivery.
Let's make this easy and call us today.
Follow us on Facebook, LinkedIn & Twitter for updates on all of the latest Power Conversion products.
Sign up to our monthly newsletter below, and never miss out on our updates of industry news, we release news/blog pages weekly with news from the power and display industries.
Relec Electronics holds the highest standards towards finding you the ideal solution for your application. We truly believe "Standard is Just the Beginning". Get in touch with our technical team today.
sign up for our newsletter
Enter your email address below
why choose relec?
Faster

Our aim is to get back to you with an initial response within the hour.

Attention to detail

We pride ourselves on getting you the right product, at the right price and on time.

New ideas

We are constantly looking for latest technology and products for your applications.

Beyond standard

It's not just about the product.  Our service goes way beyond the norm.

Easy

We want to make your life as simple as it can be. Call us to find out what we can offer.