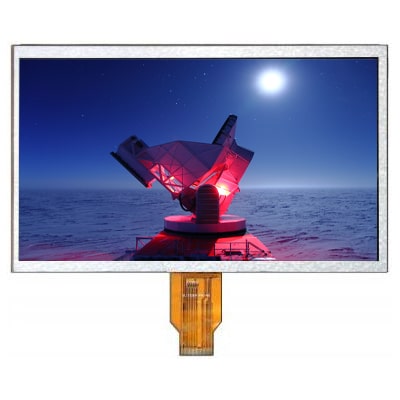 10.1 LVDS TFT LCD
Screen size: 10.1″ widescreen
WXGA
Active area: 235.0(W) x 143.0(H) mm
Resolution: 1280 RGB x 800 pixels
Interface: LVDS-6 bit 20 pin interface
have a question? call us now
APPLICATION
This colour active matrix thin film transistor liquid crystal WXGA display uses an amorphous silicon TFT as a switching device. This model is composed of a TFT panel, a driving circuit and a back light system. The TFT LCD has an 10.1 inch widescreen diagonally measured active display area with WXGA 1280 horizontal by 800 vertical pixels resolution.
Options – customise your display
feature list
High brightness & contrast ratio
Wide viewing angle
Resolution 1280x800 pixels
Low power consumption
262k colours
LVDS 6bit interface
Operating temperature range -20 to +70oC
Typical contrast ratio: see table
Anti-glare surface treatment
Viewing direction 6 o'clock (grey inversion) or 12.00
Module supply voltage 3.3Vdc
LED backlight supply voltage 9.9Vdc 180mA 1.782W
MODEL NUMBER
RESOLUTION
(Pixels)
Outline
(mm)
Brightness
(cd/m2)
13-101ZIEB0HH0-S
1024 RGB x 600
229.46 x 149.1 x 7.38
600
13-101ZIEB0HH1-S
1024 RGB x 600
229.46 x 149.1 x 4.80
1100
why choose relec?
Faster

Our aim is to get back to you with an initial response within the hour.

Attention to detail

We pride ourselves on getting you the right product, at the right price and on time.

New ideas

We are constantly looking for latest technology and products for your applications.

Beyond standard

It's not just about the product.  Our service goes way beyond the norm.

Easy

We want to make your life as simple as it can be. Call us to find out what we can offer.