Asian Supplier Visit – Nov 2017
15th November 2017
Sunday 5th November
Landed 9AM in a sunny 25 degree Guangzhou slightly behind schedule not but too worse for wear after 16 hours of travelling.  Very grateful to be picked up by Daniel and Peter from Mornsun, who chauffeured us quietly through the outskirts of Guangzhou.  Spent the afternoon dozing outside in the sunshine despite the best efforts a group of bored children who had escaped from what looked like a family lunch.  Dinner in the hotel's Chinese restaurant which included local speciality Spicy Bullfrog – Truly scrumptious
Monday 6th November
Great night's sleep – No jet lag.  Met at 9 AM by Daniel & Peter and taken for a factory tour.  SMD area was fascinating and levels of cleanliness very inspiring.  Not my greatest fashion 5 minutes though and struggled to find any overshoes which would go over my size 12s.  It's been 3 years since we were last at Mornsun's HQ and it was great to catch up with some old faces and meet some new ones.
Afternoon spent going through open project actions followed by Daniel and Co presenting their roadmap for 2018.  The new railway product portfolio looks particularly exciting with many new developments in the conduction cooled sector.  Met with overseas sales manager, Bruce who took us for dinner where the highlight was a stunning crab dish packed with ginger and chilli.
Tuesday 7th November
So much for no jet lag!  Woke at 2.00AM wide awake.  Could not get back to sleep!  Managed to finish my book though.
Early departure for flight to Taipei.  Fairly uneventful journey but fleeced £15.00 for 2 coffees at the airport.  Meeting in the afternoon with Cotek (Jenny and Riley).  Great tour of the production plant, which has amazing levels of mechanisation.  I've not seen anything quite like this on a PSU production area before.  Burn in section is amazing – They are using AC-DC units to power DC AC inverters which are then powering further AC DC units and so on….  All very efficient, and great for the environment too.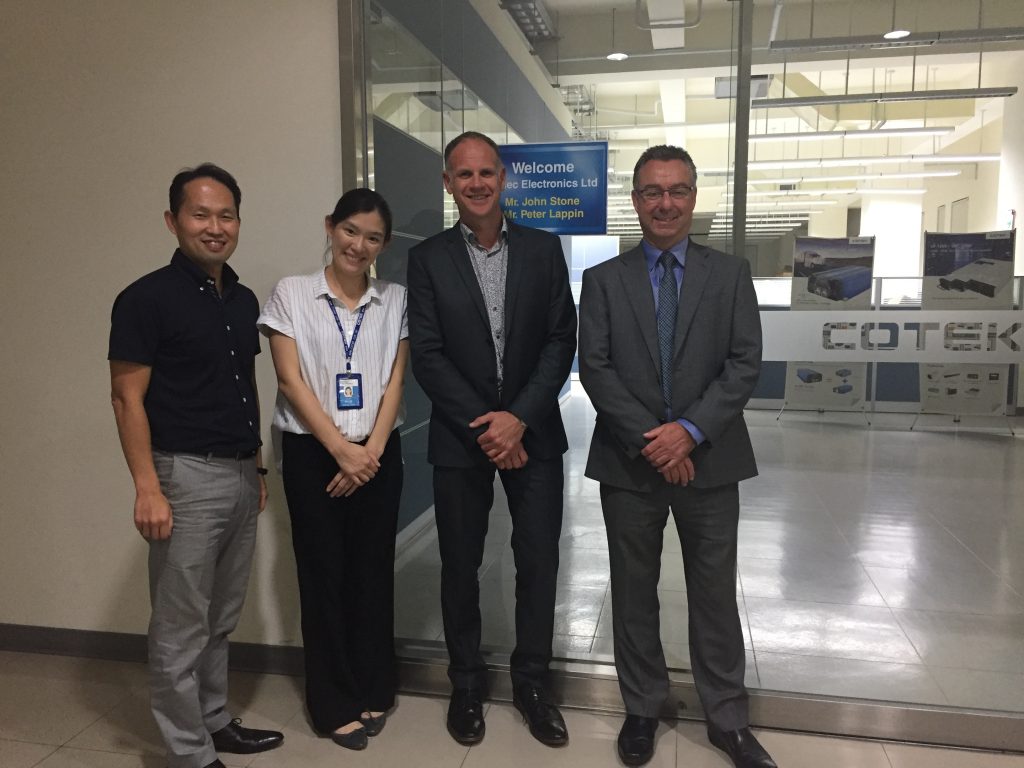 Cotek's new rack mount inverter (SR1600) looks very interesting with an SNMP interface nearly ready.  We now have stock of the basic inverters and racks with the SNMP interface available in Q1 2018.  Had an early dinner with Jenny & Riley at local Thai restaurant.  Loved the local greens – Nearly overdosed on the garlic.
Arrived at hotel in downtown Taipei 8PM.  Straight to bed – shattered!!
Wednesday 8th November
Met by Charles from Cincon at the hotel who escorted us to their office in Taipei where we were joined by Roey (Sales manager) and Jack (General manager).  This was the first time we'd met the team from Cincon and were extremely impressed with their knowledge and attitude towards their distribution network.  Product roadmap for 2018 looks to be a perfect fit for us, particularly their open frame ac-dc and the conduction cooled dc dc products.  Especially excited to see an extension of the universal input rail products (14 – 140V input range).  We presented our marketing plans for 2018 (watch this space) which went down extremely well.
Taken for lunch at a local Teppanyaki restaurant where chef cooked in front of us.  One of the best steaks I've ever had.  Trip turning into a culinary tour of Asia – Loving it.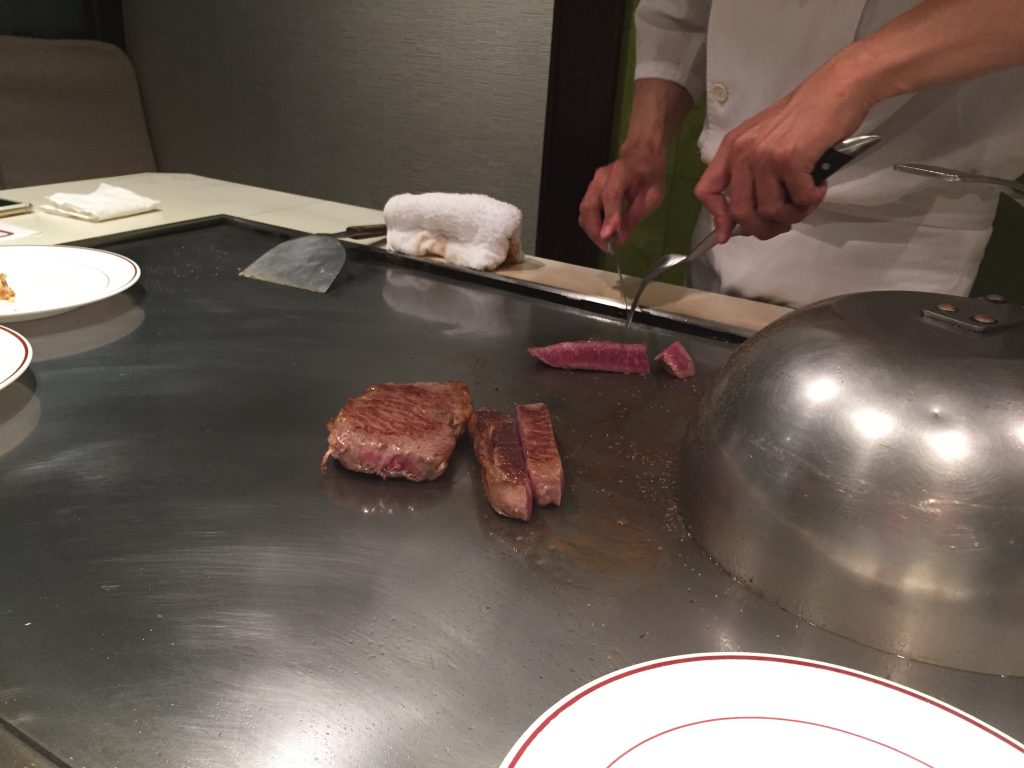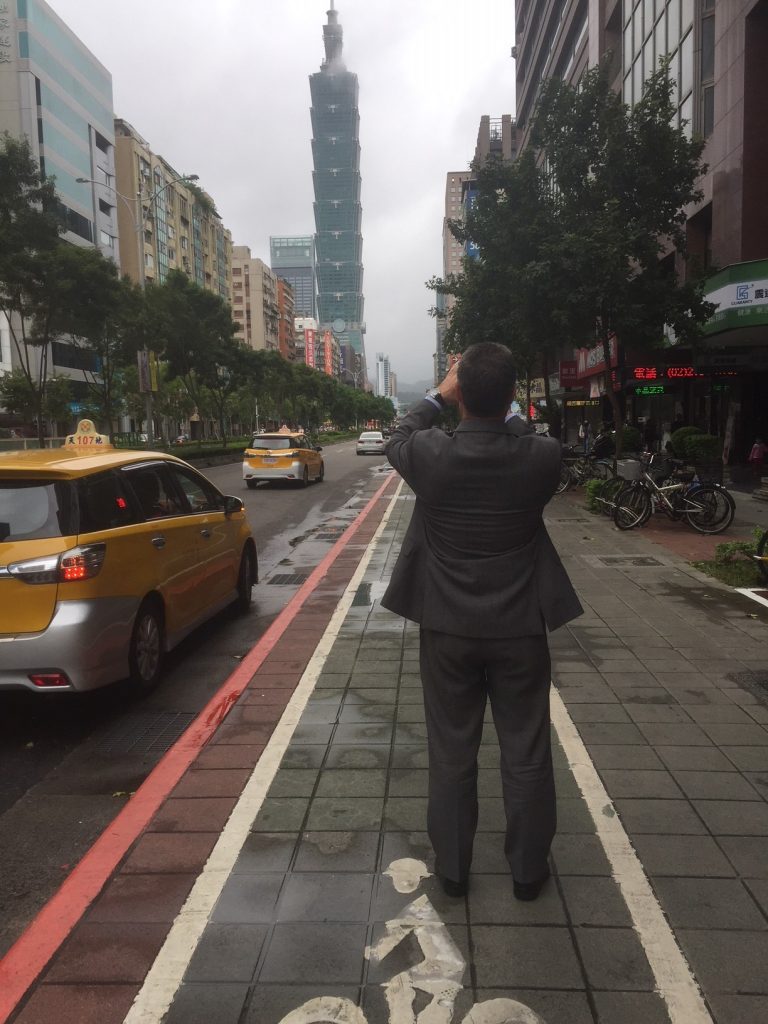 Thursday 9th November
Great view of 101 tower on the way back to the office and couldn't resist snapping the boss snapping the sights
Afternoon meeting with Debbie & James from Digiwise in their new offices, just a few days before they officially move in.  I think we are the first customer to visit.  Debbie took us through their plans to develop their own AD boards (happy days) and some new developments in IPS (In plane switching) panels.
Debbie took us for dinner at a local seafood restaurant close to the office.  Umpteen dishes of spanking fresh fish, shellfish and giant prawns.  Really interesting starter dish of pickled black mushrooms.  Must get some of these and try to replicate at home.
Another early start with Wendy from Rocktouch waiting in ambush for us as we came out from breakfast, before taking us to their production plant on the outskirts of Taipei.  Wendy's energy levels are unbelievable.  It took 3 coffees before I'd caught up.
This was the first time I'd seen a PCAP (projected capacitive) touch panel factory before.  The levels of automation and levels of cleanliness were higher than I'd ever seen in an electronics plant before.
Short journey to railway station where we took express train to Kaohsiung in the south of Taiwan.  300km in 1 hour 15 mins.  I was really looking forward to the journey and chance to see something more of Taiwan.  Fell asleep within 5 minutes and woke as we pulled into Kaohsiung!!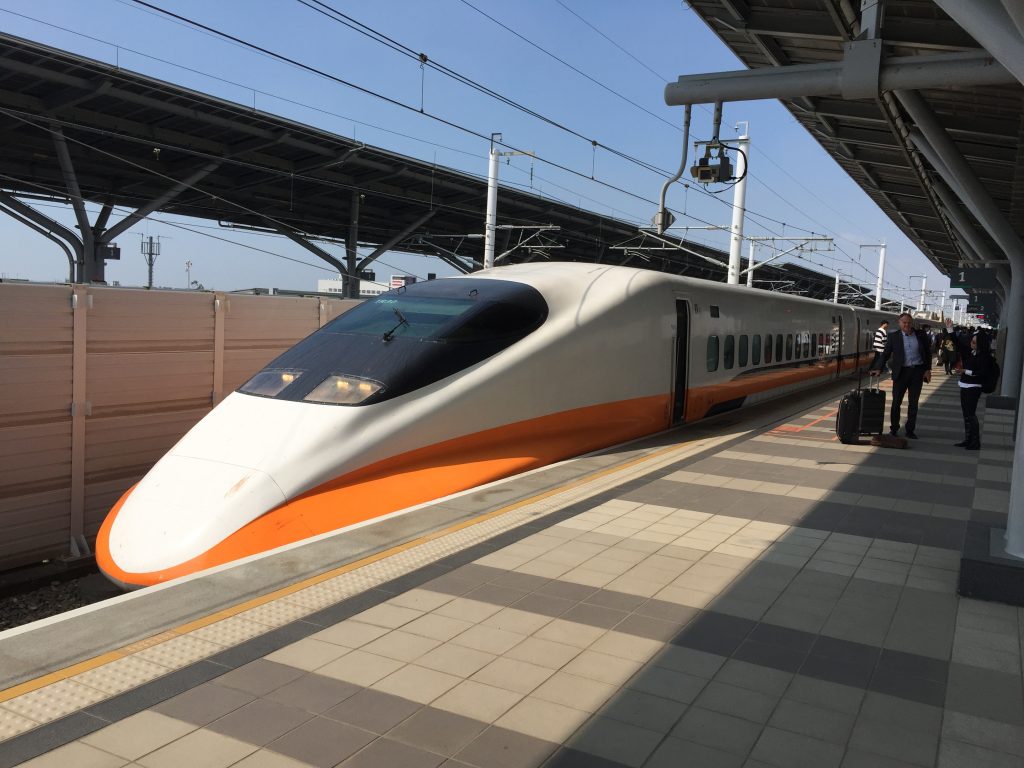 Met by Ricardo from Rocktouch and taken for Sushi lunch (the tour continues) before visiting their new PCAP / TFT integration centre.  Met an amazing team of enthusiastic engineers and production staff.  Rocktouch are such a good fit with what we are trying to achieve here in the UK.  They are an engineering driven company where the customer support is everything.  Looking forward to working closely with them in 2018.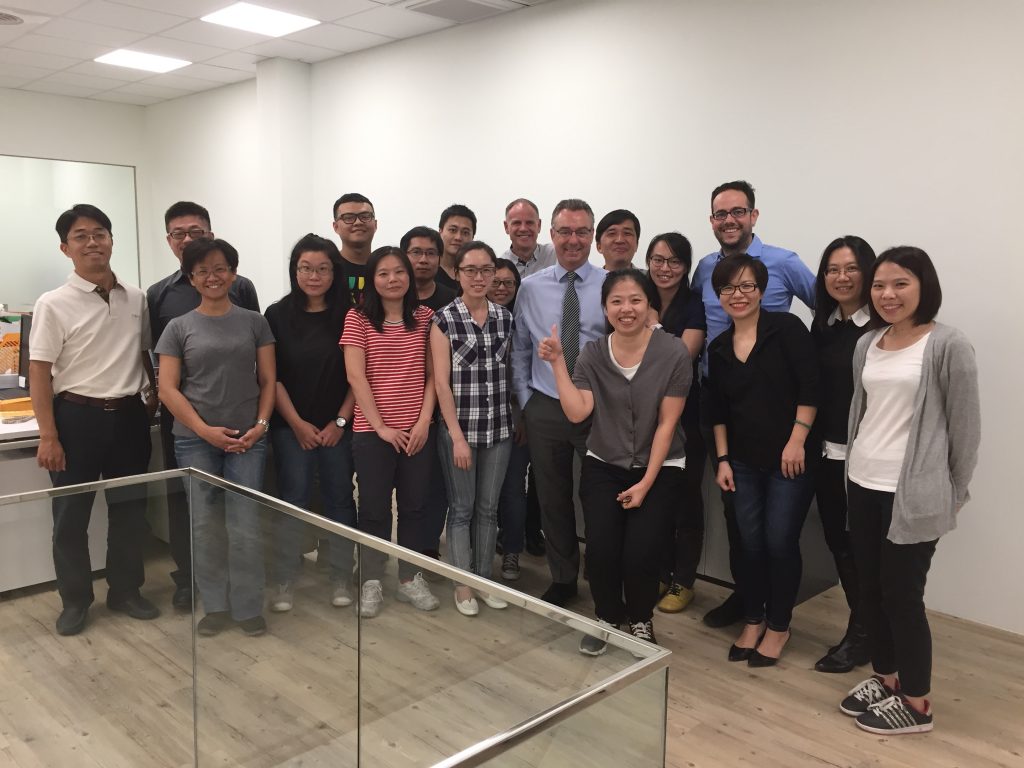 And that was that!  Meetings over.  All we had to do now was get home.
Managed to sweet talk our way onto an earlier flight out of Taiwan into HK which gave us just enough time to pop into town for a little market food in Kowloon.  Managed to bookend the trip perfectly with, you've guessed it, more spicy bull frog…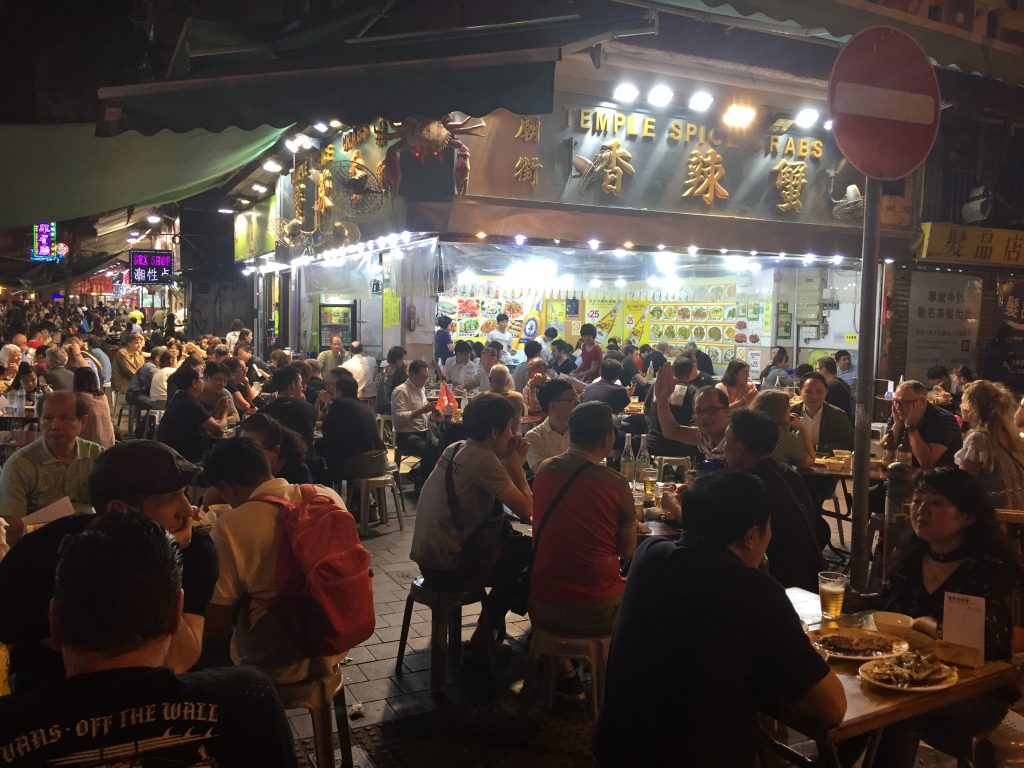 Love Asia!
John Stone – Sales Director
sign up for our newsletter
Enter your email address below
why choose relec?
Faster

Our aim is to get back to you with an initial response within the hour.

Attention to detail

We pride ourselves on getting you the right product, at the right price and on time.

New ideas

We are constantly looking for latest technology and products for your applications.

Beyond standard

It's not just about the product.  Our service goes way beyond the norm.

Easy

We want to make your life as simple as it can be. Call us to find out what we can offer.